UPC participó en el Congreso de Ingeniería de Sistemas y Diseño: Futuras Tendencias y Aplicaciones
Posted On septiembre 25, 2019
---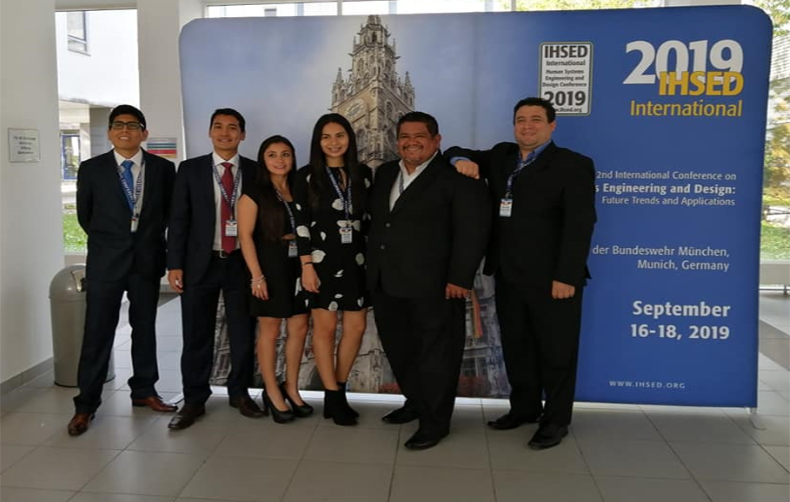 El pasado 18 y 19 de setiembre, una delegación de estudiantes y egresados de la Facultad de Ingeniería de la UPC, liderados por los profesores Daniel Aderhold y Carlos Raymundo, miembros de la Dirección de Investigación y profesores de la Facultad de Ingeniería, asistieron a la última edición del 2019 Human Systems Engineering and Design: Future Trends and Applications (IHSED 2019). Este evento se llevó a cabo en la Universität der Bundeswehr (Universidad de las Fuerzas Armadas de Alemania).
El IHSED tiene como objetivo proporcionar un foro global para presentar y debatir nuevos enfoques, herramientas, metodologías, técnicas y soluciones de ingeniería de sistemas y diseño para integrar personas, conceptos, tendencias y aplicaciones en todas las áreas del esfuerzo humano en la industria, la economía, el gobierno y educación. En esta edición, la delegación de la UPC presentó once artículos científicos:
Production management model based on lean manufacturing focused on the human factor to improve productivity of small businesses in the metalworking sector.
Plant layout model for improving footwear process times in micro and small enterprises.
Proposal for process standardization for continuous improvement in a Peruvian textile sector company.
An Order Fulfillment Model based on Lean Supply Chain: Coffee's Case Study in Cusco.
Strategic Sourcing toward a Sustainable Organic Coffee Supply Chain: A research applied in Cuzco.
Designing a Procurement Management Model to Reduce Project Delays in a Hydraulic and Automation Systems Company.
On-Demand Warehousing Model for Open Space Event Development Services: A Case Study in Lima, Peru.
Results-based Process Management Model applied to NGOs to Promote Sustainability and Reliability in Social Projects.
Telecommunications Tower Kits Manufacturing Model based on Ikea's Approach to Minimize the Return due to Missing Parts in a Metalworking Enterprise Kit.
Model for improving post-sales processes applying lean thinking to reduce vehicle delivery times at an automotive company.
Quality Management Model Focusing on Good Agricultural Practices to Increase Productivity of Pomegranate Producing SMEs in Peru.
Todos los artículos expuestos en dicho congreso se encuentran en el libro "Proceedings of the 2nd International Conference on Human Systems Engineering and Design (IHSED2019): Future Trends and Applications Human Systems Engineering and Design II", publicado por la prestigiosa editorial Springer, debidamente indexado en la base de datos científica Scopus.
---
Trending Now
You may also like