UPC participó en Conferencia Internacional de Factor Humano y Ergonomía
---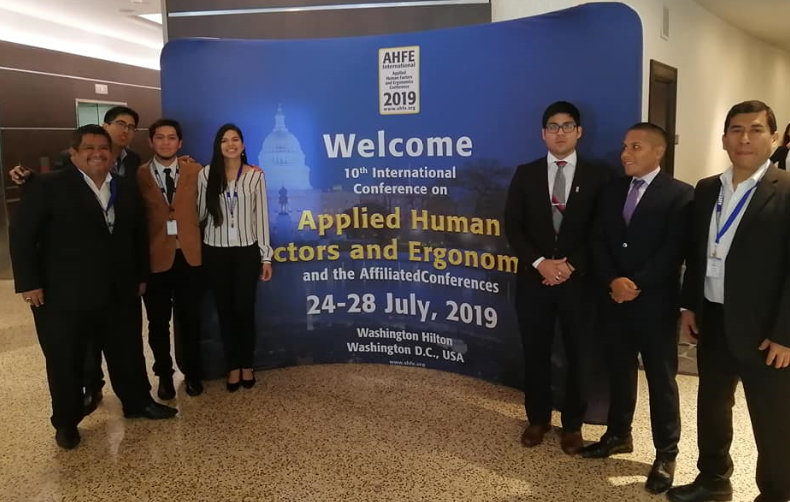 Una delegación de estudiantes de la UPC, liderada por los profesores Carlos Raymundo y Edgar Ramos, ambos de la Facultad de Ingeniería, participó en la décima edición del International Conference on Applied Human Factors and Ergonomics and the Affiliated Conferences (AHFE 2019)", que se realizó Washington, Estados Unidos.  Este tipo de participaciones son promovidas desde la Dirección de Investigación de la UPC, buscan consolidar nuestro 2° puesto en investigación a nivel nacional obtenido en el año 2019 (Ranking Scimago).
La conferencia internacional AHFE proporciona todos los años un foro para la difusión e intercambio de información científica sobre áreas teóricas, genéricas y aplicadas de factores humanos y ergonomía, a través de presentaciones magistrales, sesiones paralelas, sesiones de demostración y pósters, tutoriales y reuniones de grupos de interés especial.
Por parte de UPC se expusieron los siguientes 12 artículos científicos:
Knowledge Management Model to Support a Supply Chain for Timely Order Delivery in a Telecommunications Equipment Marketing Company.
Lean Manufacturing Model for the Reduction of Production Times and Reduction of the Returns of Defective Items in Textile Industry.
Lean Manufacturing Model based on Knowledge Management to Increase Compliance in the Production Process in Peruvian SMEs in the Textile Garment Sector.
Lean Manufacturing Model in a Make to Order Environment in the Printing Sector in Peru.
Lean Production Management Model for SME Waste Reduction in the Processed Food Sector in Peru.
Management model logistic for the use of planning & inventory tools in a selling company of the automotive sector in Peru.
Model for Dilution Control Applying Empirical Methods in Narrow Vein Mine Deposits in Peru.
Production Management Model based on Lean Manufacturing for Cost Reduction in the Timber Sector in Peru.
Production Management Model for Increasing Productivity in Bakery SMEs in Peru.
Service Model Based on Information Technology Outsourcing for the Reduction of Unfulfilled Orders in an SME of the Peruvian IT Sector.
Model for Monitoring Socioenvironmental Conflicts in Relation to the Emission of Particulate Matter in the Prehauling Phase of a Surface Mine in Peru.
Six Sigma-Based Optimization Model in Hauling Cut and Fill Exploitation Activities to Reduce Downtime in Underground Mines in Peru.
Todos los artículos científicos expuestos fueron incluidos en el libro "Proceedings of the Applied Human Factors and Ergonomics, AHFE 2018", publicado por la prestigiosa editorial Springer, el cual está debidamente indexado en la base de datos científica Scopus.
---
Trending Now
You may also like